"Hide not your talents. They for use were made. What's a sundial in the shade?" - Benjamin Franklin
Ayb is rich with talents. Although many are now busy preparing for the tests or AB examinations, the Talent Show annual event proved that Ayb students can always find time for developing and showcasing their talents. Hence, 15 groups presented the Talent Show 2022 to gain the hearts of the jury and audience.
The event started with the performance by Collateral Damage band who immediately caught the attendees' attention with their unique style and song choice. A group of students performed System Of A Down song Question. 11th grader Vahan Sargsyan performed one of Sergei Rachmaninoff's compositions while Anna Mkhitaryan came up with Stand Up song. 12th graders Aida Avetisyan and Narek Harutyunyan performed Ruben Hakhverdyan's You Are My Only song, Mariam Grigoryan premiered her own piano composition, Victoria Ghazaryan sang Sam Smith's Writing's On The Wall song. Elina Danielyan took the stage to perform Armine Hayrapetyan's Unbidden Love song. Andre Vardanyan performed the famous Lotus Land, winning the Best Technical Performance nomination.
11th-grade students Narek Davtyan and Davit Vanyan, who performed one of Eminem's hits, won the Audience Award. 10th graders Alexandra, Karine, Armine and Malvina came up with an extract from Hamilton musical to win the Best Performance Style nomination.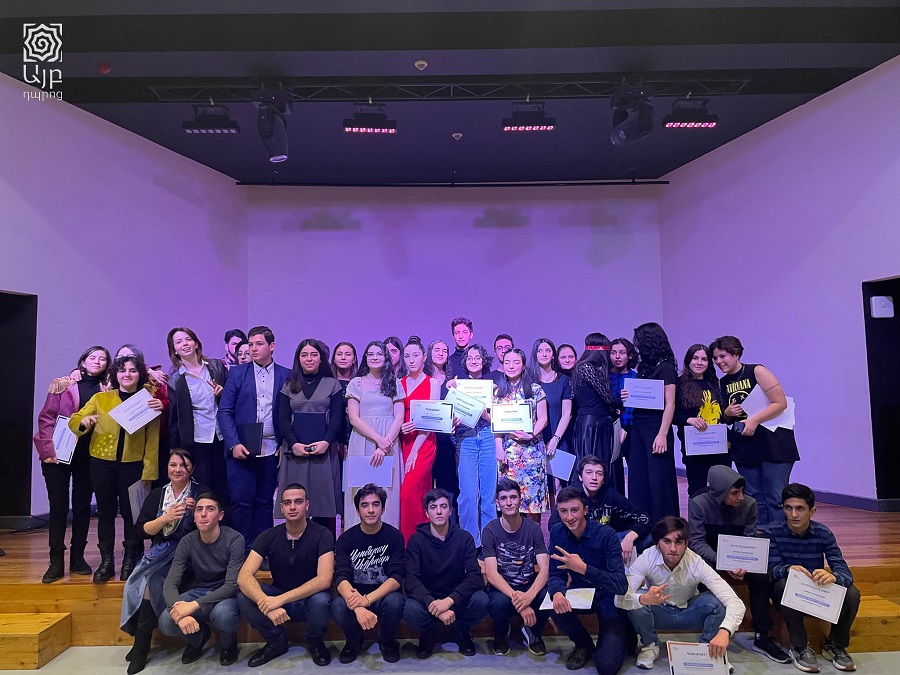 There were also two dance performances. 12th grade student Ksenia Muradyan performed the national Armenian dance to convey the sufferings of a deported Armenian woman, who lost her child during the Genocide and went mad with grief. Ksenia was awarded for the Best Artistic Performance. Luiza and Anush Mkrtumyan fascinated the audience with presenting Spanish culture.
11th-grade student Lusine Baghdasaryan mesmerized the attendees with an incredible gymnastic performance to win the Best Artistic Character nomination. 12th grader Nane Yengibaryan painted Lotus flower, thus presenting the Chinese culture and winning the Best Creative Performance nomination.
While the jury was discussing the results to select the winners, the students took the stage to perform Aybar, Ishkhanats and Alashkert Kochari dances.
The show once again proved that Ayb has a myriad of talents and many of them have not been discovered yet.
Share