Levon Oganezov is a musician, composer, actor and showman and we had the honor to welcome this one-man band and a living legend at Ayb School.
He is in Hayastan auditorium playing the piano when the students finish their lessons and hurry to meet in person the smiling and cheerful Maestro, who will be celebrating his 80th birthday next year.
"I am sorry, I don't speak Armenian, although I can understand it. My parents didn't spend much time at home and I had no opportunity to learn my mother tongue. I myself was always busy with music studies," he says to start the talk.
When dwelling on teaching and studying, Maestro Oganezov, who is an honored teacher as well, says it were his students, who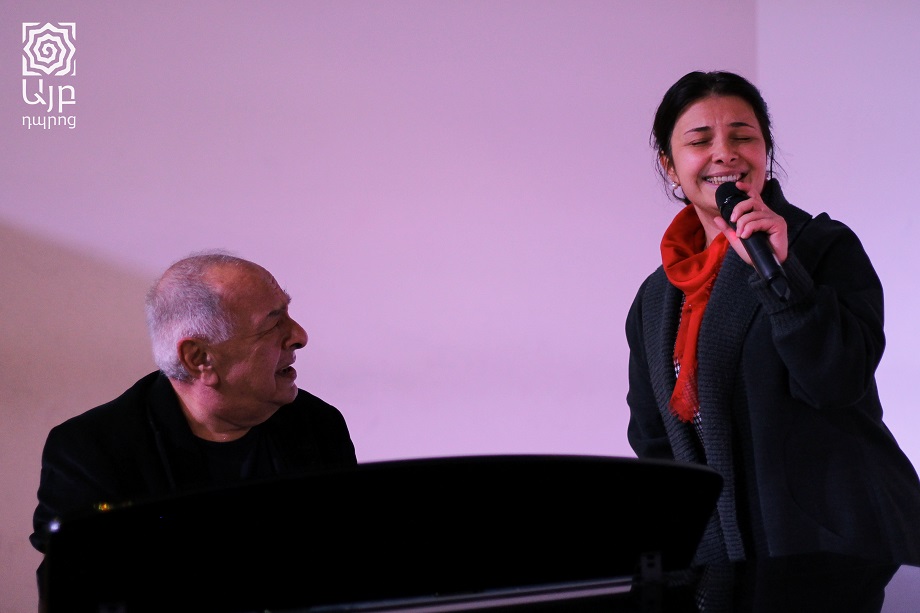 taught him to teach. "Teaching music is extremely hard. Higher education in music is a relative concept. The most important criterion is to feel the music, which is a language in itself. The audience capable of feeling is a rare phenomenon now, although people continue going to concerts. The problem is that many of them do not understand what's happening on the stage," he remarks and goes on, "As for Armenians, we are really a very musical nation. Sometimes it seems that music in Armenia was born before the people."
The most important thing is to hear the music, according to Oganezov. When we learn to hear the music, we will understand its meaning and logic, he believes.
As a jazzman, Oganezov says, "Jazz did not enjoy much popularity before but it could finally find its place and fans in the world of music. The people playing jazz belong to a different category but comprehending jazz is equal to comprehending classical music."
It's impossible to get bored with showman Oganezov. He truly deserves the title of the most humorous composer and the most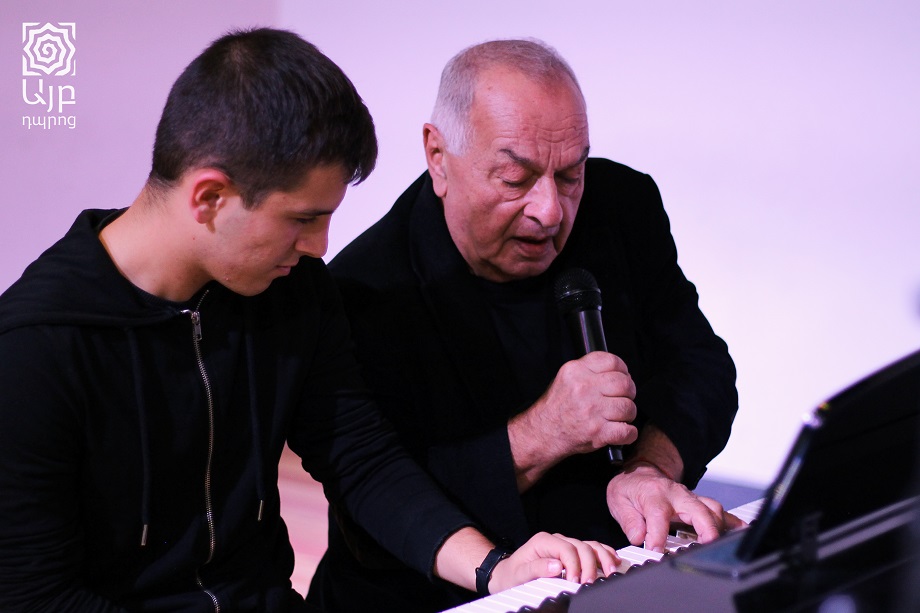 musical humorist. "People performing on the stage are engaged in service industry. I don't feel bad about it. We are exchanging energy with the audience. In addition, I get paid for it."
The gathering is crowned with a short masterclass. The bravest students play the piano, while Maestro listens to the performances, making some remarks. "Harmony can never be false. It's in your mind and the only thing you have to do is to hear it," he tells Gurgen, who sits next to him.
Anna Akopian, Ayb School Head of Community, adds her beautiful voice to the jazz improvisation.
Maestro doesn't say good bye to Ayb, but promises to visit it twice a year.